Here's why we're major fans…
Her signature outfit is a tuxedo
Janelle is rarely seen out of her Tux. As she says: "I bathe in it, I swim in it, and I could be buried in it. A tux is such a standard uniform, it's so classy and it's a lifestyle I enjoy. The tux keeps me balanced. I look at myself as a canvas. I don't want to cloud myself with too many colors or I'll go crazy. It's an experiment I'm doing. I think I want to be in the Guinness Book of World Records."
We've had her rendition of David Bowie's Heroes on repeat
The advert gives you chills and the song is amazing. We're loving her version of Heroes!
She won the Billboard Women in Music Rising Star Award in 2014
This confirms it! She's awesome.
She's a big fangirl
Apparently Janelle freaked out a little to be covering David Bowie, of whom she is a huge fan. She said: "Heroes' is one of my favorite David Bowie songs, he's just the coolest artist out there, so to be able to cover the song and to pay homage to him is truly a dream."
She's best friends with Prince. Yes Prince.
The Purple one was a fan of her before she was famous.
She's kind of a musical nerd
One of Janelle's genuine influences growing up was The Wizard of Oz, and apparently as a youngster she'd constantly go into her own little musical world. She said: "There was a lot of confusion and nonsense where I grew up, so I reacted by creating my own little world ... I began to see how music could change lives, and I began to dream about a world where every day was like anime and Broadway, where music fell from the sky and anything could happen."
She was discovered by Big Boi from Outkast
It was Big Boi who convinced P Diddy to check out Jonelle's MySpace page, who then promptly signed her to his record company!
Her alter ego is called Cindi Mayweather
Move over Sasha Fierce! According to Janelle: "Cindi is an android and I love speaking about the android because they are the new "other". People are afraid of the other and I believe we're going to live in a world with androids because of technology and the way it advances. The first album she was running because she had fallen in love with a human and she was being disassembled for that."

Erm, whaaaaat?
Believe it or not, she went to drama school
Since all of her music videos have a detailed backstory with Janelle playing a variety of characters, it's hardly surprising that the singer studied at the American Musical and Drama Academy!
She's an Afrofuturist
Monáe is part of the cultural movement Afrofuturism which combines science fiction, Afrocentricity, and magical realism to critique modern perceptions of race.
Are you a fan?! Tweet us @sofeminineUK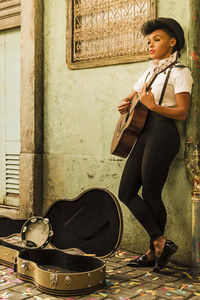 © Pepsi