Author. Politician. Activist. Feminist. Mother. Wife. The young, vibrant intellectual from Chicago has done so much in her 66 years. Fortunately, Hillary Rodham Clinton shows no signs of stopping. Although she coyly remains mum on her second run at the Oval office, all signs point to her imminent campaign for the 2016 Presidential Election. We couldn't be more excited to watch Hillary to win at life and remain a beacon of hope for women across the globe.
Hillary attended Yale Law School in 1969. It's where she met her husband, Bill Clinton, and solidifed her passion for working in the public service. After graduating, Hillary went on to become a distinguished lawyer. The smartie was highlighted as one of the 100 best lawyers by The National Law Journal in 1988 and 1991.

In 1992, Bill was elected President of the United States, which also brought international attention to Hillary's accomplishments. Yet, her time as the First Lady was difficult and met with scrutiny. Her healthcare reform did not gain Congressional approval and she was subpoenaed to testify about a real estate investment venture gone sorely wrong. And, of course, she had to publicly deal with her husband's infidelity and the subsequent media fervor over Monica Lewinksy and Bill's relationship. But Hillary did not recede into the background after Bill's two terms were over. She became the first woman elected as Senator of New York in 2000, winning a large majority of the vote! She maintained a steadfast career, made important relationships across party lines, and showcased her reputation as a woman who can get shit done. After serving two terms as senator and trying to run for the presidency in 2008, Hillary accepted her President Obama's nomination as the Secretary of State.
Here are favourite pearls of wisdom from the shining political star!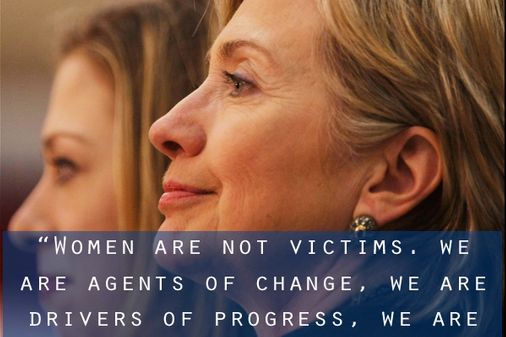 © Joe Raedle
Hillary Clinton, Wednesday Wisdom
Hillary stepped down from the Secretary of State position in 2013, prompting everyone to ask, "Is she running for President again?" She won't give a straight answer...yet but, well, we all know it's coming and we're so ready for her to announce her bid!
Which piece of wisdom is your favourite? Tweet us @sofeminineUK and check out last week's WednesdayWisdom!