Harry Styles was all smiles as he acted as best man at his mother Anne Cox's wedding.

The singer's mum was marrying her long-term partner Robin Twist.

The pair have been together for years and Robin helped to raise the would-be superstar after his father left when he was seven.

The wedding was a family affair with Harry's now step-brother Mike also acting as a best man.

His sister Gemma was also part of the bridal party.

Sources for The Mirror described the "stylish" ceremony which took place at a restaurant near their home.

The weather was on their side for their 42-strong guest list and the group were photographed having a lovely day outside.

Harry, 19, looked dapper in a black suit and tie while his 43-year-old mother was stunning in an ivory lace gown.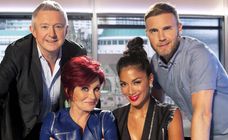 There was minimal security as the crowds focused on the nuptials; there were only two minders at the door and they were visible to passers-by.

One guest told the Mirror: "Harry couldn't stop smiling. He hardly left his mum's side and she looked really proud of him. He sipped champagne and chatted to everyone."
He was also captured on video goofing around with both the cakes and the guests!​

A source said: "They chose the medium-priced wedding package. It was a lovely day."

The party later went to a pub for an evening reception.

His sister Gemma took to Twitter after the reception to thank friends and family for their support.

She said: "Well what a lovely day. Ta for everyone's good wishes, we're all very happy."

She also rubbished claims made that there was a "decoy coach" of faux guests sending journalists to Doncaster.

She described the idea as "hilarious".

Sounds like a special day for the whole family - and it was just in time for Harry to jet off to Mexico for the next leg of their tour!

© Twitter
Harry Styles and Robin Twist