Ant and Dec get involved in a dance-exercise routine called Funkasize on tonight's episode of Britain's Got Talent.

The Geordie duo are swept up in the vibe that DJ Sexy Scott gets going during his audition and decide to join in.

The 29-year-old entertainer and fitness instructor from London treats the audience to some serious moves with his own version of Nicki Minaj's Starships.

It doesn't take long before the presenting pair are up on stage with him to bust a few moves.

As the routine comes to an end, the boys applaud DJ Sexy Scott for such a comprehensive routine.

Dec brands it "amazing" and Ant adds: "That's like the complete workout."

It's not only Ant and Dec who get involved either - judges Amanda Holden, Alesha Dixon and David Walliams all join in and start throwing some shapes.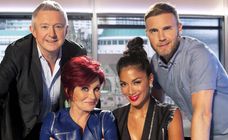 Simon Cowell of course remains firmly in his seat and comments: "Bonkers."

Comedian David, on the other hand, is loving it.

He jokes: "Me and Simon have been funkasizing for many years."

He says to Simon: "You said to me 'when are we going to get funkasize known by the nation' and this is our chance today. It's a great big funkasize yes."

This isn't the only time we see the Saturday Night Takeaway hosts getting involved in an audition either.

Ant and Dec also find themselves on stage when a sword swallower - El Lurchio - drags them along on a trolley, pulled by chains attached to the edge of the sword - in the 29-year-old performer's mouth!

And a moment of classic Simon tact comes when he is faced with drag act Bosom Buddies from Manchester.
Mark and Stuart - otherwise known as Bernie and Brenda - take to the stage to sing La Vie en Rose.

Simon starts to laugh as he notices an uncanny resemblance to a certain nineties girl band.

He says: "It's like Geri Halliwell and Victoria Beckham separating away from the Spice Girls and doing a duet."

The boys comment: "Only better looking."

Simon adds: "And better singers. But there is a resemblance; I'm still struggling a little bit with this."

Simon hurts more feelings when he's asked which judge would get the boot if he had to let one go.

He says: "Well it would have to be David because he was the last to join us."

David then jokes: "Fair enough, I've got other stuff to be getting on with."

Don't do it Si, David's definitely our fave.

© ITV Pictures
Ant and Dec performing funkasize on BGT 2013