Emma Watson has spoken about her disbelief at the consumerist attitudes of modern celebrities.

The 23-year-old star of The Bling Ring visited Paris Hilton's glitzy multi-million pound home to film scenes for her new movie.

And it seems Emma was anything but jealous of Paris' set up.
She explained: "It's almost like consumerism as a form of kleptomania.

"She could never wear all of those clothes and half of them were brand new and still had the price tag on.

"But I suppose she just bought them to have them. We've all bought things on impulse but that's an entirely different thing."

Emma's own personal views of fame and wealth are clearly very different to the 32-year-old socialite's.

The former Harry Potter star said: "I've got about eight pairs of shoes and that's it."

That's even less than us and we certainly can't boast to have a £26million fortune.

That being said, Emma understands there is a level of double standard to her words.

She told the Radio Times: "It's easy for me to sound like a total hypocrite because, of course, I'm dressed in designer clothes right now."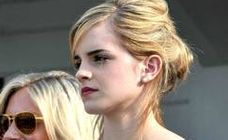 © Getty
Emma Watson at Cannes
Emma went on explain why she has no desire to be considered a celebrity - though it's perhaps a bit late for that, what with numerous movie roles and modelling campaigns under her belt.

She continued: "There's a whole new definition to celebrity now.

"And I think that's why you see a lot of actors blanching at being associated with that word 'celebrity' because it's become something that isn't really associated with having a craft..."

When Emma isn't starring in Sophia Coppola flicks, she's completing her English Literature degree at Brown University in Rhode Island.

Despite her massive role in Harry Potter as geeky Hermione Granger she claims she only really felt the effect of fame when she first started at the uni.

She told Teen Vogue: "I think, in a way, I was very protected during Harry Potter because I was working all the time. I would get in the car, go to the studio, and go home.

"It sounds stupid, or completely unbelievable, but that was when I realised that I was famous.

"There are still days when I deal with [fame] horribly and there are days when I deal with it really well."

And on combining her studies with fame, she added: "I've always juggled my education with working and I've always liked the balance of that.

"I've always liked being able to go and do a film and then take a break and use my brain and do something different. I hope one day to do a Masters.

"But I'm just going to keep gently moving towards it and I'm not in any particular rush."

© Getty
Emma Watson