Victoria Beckham celebrated her 39th birthday at Nobu in London yesterday with her parents and sons Romeo, Brooklyn and Cruz.

But it wasn't only baby Harper who seemed to be missing from the crowd - David was also away from his wife.

The pro-footballer was not at home looking after the baby, he was in fact training in Paris, where he's been for the past three weeks - a fact that's reportedly left Victoria unamused.

A source told the Mirror: "David was on duty with his club Paris St Germain so couldn't be with Victoria yesterday, the day of her actual 39th."

Of course, David didn't forget his wife's birthday.
The source continued: "Obviously, they spoke lots and he'd arranged a series of small gifts, including flowers, to be with her on the day, courtesy of the kids.

"But his main present is flights for the whole family, including the grandparents, to join him in the French capital.

"He and Victoria have hardly spent any time together of late and so David's saying he's going to spoil her rotten and make up for lost time."

The source added: "The grandparents are on babysitting duty, meaning David has a whole day and night alone with his wife.

"He's booked a five-star hotel and will pull out all the stops."

Victoria was inundated with Birthday wishes yesterday.

She was contacted by all her fellow Spice Girls, plus she got a special Spotify playlist from the music provider in tribute to her pop career.

Victoria wrote on Twitter: "Thank you for all your messages! Having a special day with my boys and Harper x vb"

She followed it up with: "So much fun on my birthday!! Thank u so much!!!! X vb"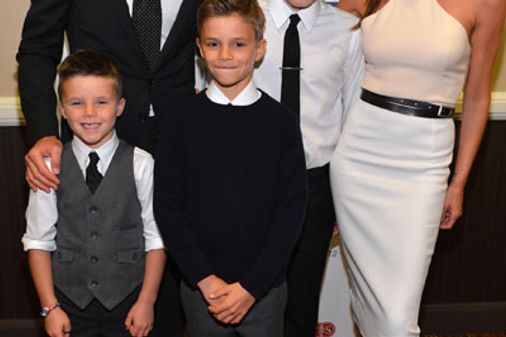 © Getty
The Beckham family