Doctor Who will celebrate its 50th anniversary this year with a special episode in November.
And there are a collection of familiar faces joining current Time Lord Matt Smith for the adventure.

​Billie Piper and David Tennant are both confirmed to join the cast for the one-off show.
​The pair were originally on screen together when David played the tenth incarnation of the Doctor and Billie was his partner in crime, Rose Tyler.

​It will be the first time they've returned to their roles since they left the show in 2010.
​Tinker Tailor Soldier Spy actor John Hurt will also star in the anniversary episode.

​The exciting special will be shown in 3D as well as 2D, which has left eager Doctor Who fans hoping for an anniversary spectacular.

​Speaking about the work of writer Stephen Moffat, Matt Smith said: "What he's written is just spellbinding. It's one of the best [episodes] ever, ever, ever. There are parts of it in mad 3D. But what [Moffat's] done with the idea is really clever, it's not just throwing things at the screen.

​"He's been wanting to write this script for ever and he's really done it justice.

"There are elements to it which are different from normal episodes. When you combine all the elements that are different it's not just an episode of Doctor Who, it's something else, something bigger and more exciting."
​The cast met recently for a read through of the special episode - and joining Matt, Billie and David was current sidekick Jenna-Louise Coleman and Gavin And Stacey favourite Joanna Page.
​It has been rumoured that this will be one of Matt's last outings as the Time Lord and he will make way for Doctor number twelve next year.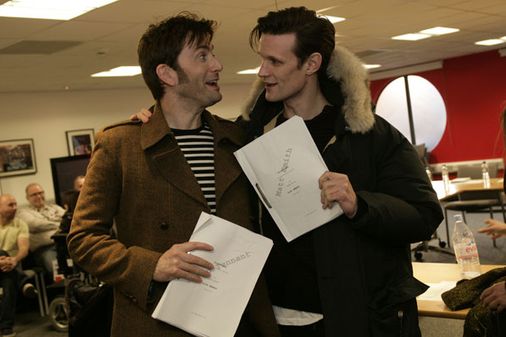 © BBC Pictures
David Tennant and Matt Smith at the read-through