Emma Watson watched hours of US reality TV to help prepare for her role in her latest film The Bling Ring.

The 23-year-old Brit takes on the character of Nicki, an LA teenager who becomes obsessed with the culture of reality TV stars and goes on to burgle the houses of numerous celebs.

Emma explained at Cannes that she felt the need to watch the shows in order to "understand the psychology" of her character.

Sofia Coppola's new film premiered at the Festival last night so Emma has been busy with promotional duties.

She said during a press conference for the movie: "I watched a lot of Keeping Up with the Kardashians and The Hills, and I tried to understand the psychology of this kind of girl as much as possible.

"I didn't want her to be just a parody. The accent was hard as it was a particular kind of dialect. I also thought a lot about what her parents must have been like."

The film is based on true events: a group of teenagers broke into the Hollywood homes of a list of mega stars including Lindsay Lohan, Paris Hilton and Orlando Bloom.

© Getty
The Bling Ring Cast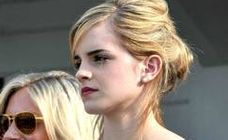 Despite the depictions of the group's thievery, the Harry Potter star is adamant this is not your usual heist movie.

Unsurprisingly for Sophia Coppola, this is a film about people and their lives rather than the specifics of breaking into homes.

Emma said: "This really isn't a heist movie. It was about how these kids wanted to pretend for just two hours or so that they were actually Paris Hilton and living that life."

Sophia herself has similarly addressed criticisms that the film may glorify the illegal actions of the teens.

She said: "It's not a documentary, we made a movie and I'm not too concerned with their reaction."

Sophia specifically altered details from the original story: "I didn't want to make those kids more famous than they already are for what they did."

The real life Nicki - Emma's character - has taken to Twitter to react to the film trailer and dubbed it "trashy and inaccurate".

There may be inaccuracies but some scenes of the film were shot in Paris Hilton's real house.

Sophia told Cannes: "It was interesting to be in one of the real locations where a burglary took place and she showed us footage of the kids there.

"This world we're showing is definitely one of excess."

© Getty
Emma Watson