Katie Smith, a former squeeze of One Direction hunk Harry Styles, is set to appear on BBC talent show The Voice.

She will be performing a duet of Paolo Nutini's Candy with her new boyfriend - a curly haired singer who's also called Harry. What are the chances?

The blonde beauty first hooked up with the 1D singer back in 2010 when they both competed on The X Factor.

They both made it through to the boot camp stages of the show, during which they were seeing each other for a few weeks.

The romance didn't last though, as Katie was kicked off the show before the live finals and Harry was introduced to his new partners in crime: Niall Horan, Liam Payne, Zayn Malik and Louis Tomlinson.

A source for The Sun said: "Katie can claim to have had Harry's eye before he was famous.

"He was smitten with her for ages and they used to flirt all the time on the show.

"The Xtra Factor even picked up on it and arranged a date for them."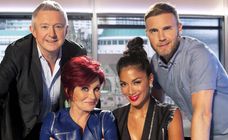 They may have had a cute fling but apparently it was nothing serious.
​The source added: "It was a puppy love thing but was destined to end abruptly as she didn't make it to the live shows."
Looking at Harry's dating history it doesn't seem likely that these two would have gone the distance.

The it-man of the moment was most recently spotted getting cosy with singer Rita Ora on a night out at the Groucho in London.

But Harry fans were given the chance to imagine what it would be like to be one of his numerous conquests this morning, when director Morgan Spurlock tweeted a photo of the stud in bed.

The man behind their forthcoming film, This Is Us, has been getting an all-access pass to the 1D boys and posted the photo with the caption: "Rise & Shine! Waking up with Mr.@Harry_Styles."

Over-excited fans have been eagerly speculating over whether or not he was wearing any clothes at all underneath the duvet.

We'll never know...

© Twitter
Harry Styles in bed