Harry Styles and Taylor Swift split at the beginning of 2013, but it seems neither of them wants to let the other one have the last word on the failed romance.

The 19-year-old One Direction star has let on that the relationship certainly wasn't plain sailing, reportedly describing it as "a huge pain in the arse".

On the upcoming 1D documentary film, This Is Us, Harry also apparently discusses his alleged bed-hopping ways and you have to hope Taylor didn't think they had something special - because Harry didn't.

The 19-year-old reportedly says: "I haven't met a girl yet who I'd want to even think of getting serious with.

"I think I've been unlucky in love so far. But then, I haven't really met anyone who's made the earth move for me...

"I'm longing to meet someone who really inspires me and makes me really want to spend time with them."

If Taylor's song I Knew You Were Trouble is anything to go by, then she can't be all that surprised by the comments.

She has even admitted that it was written about the ladies' man, who watched her perform it at the BRIT Awards.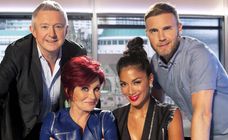 She told The Sunday Times Magazine about her post-break-up performance: "Well, it's not hard to access that emotion when the person the song is directed at is standing by the side of the stage watching."

The 23-year-old added: "You're balancing the analytical side of your brain, which is telling you where to go and how to go there, with the other side of your brain, which is saying, 'Feel everything you're singing, and show it on your face. Feel everything exactly as you felt it when you wrote the song.'"

Taylor has since made a request to have all footage of herself removed from One Direction's upcoming movie.

The split has been put down to all sorts of things, including Harry finding Taylor boring, and her not putting up with his wandering eye.

Whatever the reason, we reckon these two are Never Ever Getting Back Together...like ever.

© Getty
Harry Styles