Harry Styles has added yet more tattoos to his growing collection.

The 19-year-old 1D singer has had the words "Never gonna dance again" etched onto his two ankles.

The words appear in a famous Wham! song, Careless Whisper, which interestingly follows up with the lyric, "guilty feet ain't got no rhythm".

Maybe Harry's starting to feel guilty about that trail of broken hearts he's been leaving all over the world.

Or is he making a joke out of his own dance moves?

Perhaps he's just a seriously big Wham! fan.

Harry showed off his new inkings in Miami, where the boys arrived for the next leg of their Take Me Home tour.

Niall Horan, Louis Tomlinson, Liam Payne, Zayn Malik and Harry had spent 24 hours on a 90ft, £1.5million yacht in Florida.

And by the looks of their impressive tans, most of that time was spent catching the rays.

This may not be the only tattoo Hazza reveals to us while he's on the other side of the pond.

© Twitter
Harry Styles new foot tattoo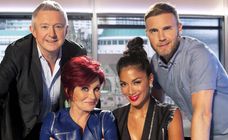 He's apparently looking to get a "massive" inking across his back, which is most likely going to be Hebrew lettering.

Harry is in talks with LA artist Freddy Negrete, who gave him his first piece of body art last year.

Freddy has claimed that he's planning to start work on his back the next time the singer is in LA - and with the boys' tour due to hit the city in August, it might not be long before Harry goes under the needle.

But Harry's not the only member of One Direction with new tatts on the go - these boys can't keep away from the parlour!

Zayn, 20, has had a huge wolf design - with beaded feathers - inked onto his left shin by tattoo artist Paul O'Connor.

Zayn was joined by his Little Mix girlfriend Perrie Edwards in the Dorset parlour, who watched on for two hours as he got the £150 design inked onto his newly-shaved leg.

The boybander first displayed his new body art at 1D's big announcement last month but now more photos of Zayn under the needle have emerged.

Artist Paul revealed to the Bournemouth Echo: "I didn't have a clue who Zayn and Perrie were at first. One of our customers recognised them.

"My wife put it on Facebook and within five minutes we had screaming schoolgirls outside on the pavement."

Niall remains the only one in the group to go ink free.

© Getty
Harry Styles topless