We were well aware Harry Styles had paid a fair few visit to the tattoo parlour - but a new topless picture of the singer shows the full extent of his body art collection.

He may only be 19, but Harry's chest and arms are already covered in a random collection of inkings.

Harry whipped his top off during a sunbathing session in Barcelona, choosing to wear little more than black Adidas shorts, sunglasses and a cap.

© Twitter
Harry Styles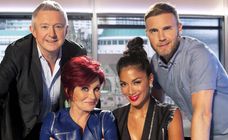 The singer was on a break from One Direction's hectic world tour and decided to spend the time catching a tan with his friends.

Harry's most prominent tattoo is a large butterfly across his rib cage, while he also has two birds inked on his chest.

He also has a load of randomly placed designs, including a ship on his upper arm, a black heart, a coathanger and a birdcage.

Upon seeing the snaps, Harry's biggest fans struggled to contain their excitement on Twitter.

One wrote: "Harry Styles topless in a SnapBack and Raybans will be the death of me I swear."

Another tweeted: "If I meet Harry Styles in LA walking the streets topless I will poop my pants."
Harry was also snapped doting on baby Lux, who's the daughter of 1D's hairdresser, Lou Teasdale.

The Cheshire boy - who was also accompanied by Lux's heavily-tattooed dad - seemed happy to keep the little girl entertained and carried her in his arms.

Harry and his 1D bandmates - Liam Payne, Louis Tomlinson, Zayn Malik and Niall Horan - will be back to work tonight, as they take their tour to the city of Badalona.

They will then travel to Madrid for a gig on Friday and Saturday night, before leaving for Portugal. Their North American leg kicks off on 8th June.

As if this wasn't enough, the band recently announced their Where We Are stadium tour in 2014.

We're tired just thinking about it.

© Getty
Harry Styles