Cara Delevingne is the it-girl of the moment and could probably get bag herself any man out there.

Apparently she's set her sights on Geordie Shore star Gaz.

Yeah, we can't believe it either!

The reality TV star has been exchanging flirty messages with the 20-year-old model over Twitter, both publicly and privately.

A source for The Sun said: "It's been going on for about two weeks.

"Cara has a real crush on Gaz and he's lapping it up. He can't believe his luck.

"Cara doesn't really have a type so none of her pals are surprised she's attracted to Gaz."

The unlikely pair have apparently been chatting via direct message on Twitter and comparing their drinking abilities.

They then took it public as she wrote: "@GazGShore the battle is yet to begin but the war is already won! Are you ready for a challenge?"

Gaz then replied: "@Caradelevingne next Sunday your ass is mine hope ya not a bad loser #bluewkdlightweight haha!! #goingtogetmessy."

Their public flirting continued when Cara then tweeted "@GazGShore we will see about that!"

He responded: "@Caradelevingne My victory dance is already planned don't worry I'll hold ya hair back."
This potential hook-up comes off the back of reports that Cara sent Leonardo DiCaprio packing when he came on pretty strong at a party in Cannes.

Leo's got quite the reputation with blonde supermodels and apparently made a bee-line for her.

A source told The Sun: "Normally all Leo has to do is look at a girl and they fall at his feet. Though Cara was having none of it.

"He spent the night chasing after her and essentially she blew him out."

Adding: "They spoke and he was pretty forward inviting her to a party back at his suite. They swapped numbers but that was it.

"He tried every trick in the book and apparently kept lunging for her but she kept dodging them.

"Everyone is howling at the fact she actually knocked back the biggest actor in the world."

At 38-years-old, the insider explained: "She thought he was too forward and too old."

Age doesn't appear to be an issue for Leonardo as he's most recently been linked to 20-year-old German model Toni Garrn.

The Victoria Secret lingerie model was spotted with the Hollywood A-Lister in France.

Well age gap or not, we'd certainly pick Leo over Gaz...Sorry Cara.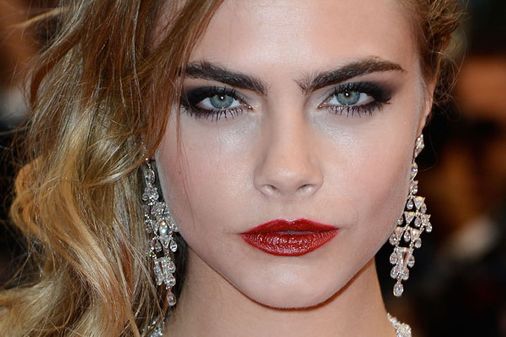 © Getty
Cara Delevingne