X-Men fans have been given a taste of how Jennifer Lawrence will look in the new X-Men film, Days Of Future Past.

The actress is reprising her role as Mystique and the film's director Bryan Singer has offered his followers a sneak peek of the actress in costume.

Bryan tweeted a photo of Jen covered in blue body paint and wearing noting but a thin body suit, which is textured to create a reptile effect for the Marvels Comic mutant.

The 22-year-old wears bright yellow contact lenses and dons an orange wig.

Bryan captioned the image: "First look: #JenniferLawrence as a vengeful #Mystique. #XMen #DaysOfFuturePast."

The post has already had nearly 3,000 re-tweets and fans of the Oscar-winning actress commented that she looks "beautiful" and "amazing".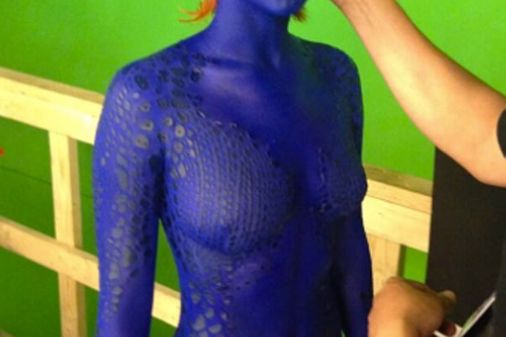 © Twitter
Jennifer Lawrence as Mystique
Jen's figure looks incredible in the barely-there outfit - her toned stomach on full show - but the actress doesn't appear particularly comfortable or confident.

The movie - the sequel to X-Men: First Class, is being filmed in Montreal, Canada, and is set for release in 2014.

Awkwardly for Jen, her ex-boyfriend Nicholas Hoult also stars in the film.

The former Skins and About A Boy actor plays Beast in the franchise and the pair met on the set of X-Men: First Class.

But Nick and Jen split in January this year amid reports they'd grown apart.

There were hopes for reconciliation when they were spotted out for dinner together in Hollywood last month, but it looks like it could have just been a friendly get-together.

The pair probably wanted to ensure they were on good terms ahead of filming for the new movie.

Nick, 23, has since been linked to Elvis' granddaughter Riley Keough - his Mad Max co-star.

But surely he'll take one look at Jen in her Mystique costume and realise what he's missing?!