Kanye West has reportedly popped the question to his girlfriend Kim Kardashian.

The rapper is said to have asked Kim to marry him just a few days after she gave birth to their daughter, North.

The new parents are said to be planning a September wedding in Paris.

With the tot arriving five weeks earlier than expected, Kanye's not yet managed to buy his future wife an engagement ring.

But he did present her with a "push present" - a growing US trend of a gift given to a new mum for, as the name suggests, giving birth.

This is Kanye West, so it was no toiletries set from Boots - the 36-year-old apparently bought his reality TV lady a £500,000 rare black and tiger-stripe diamond ring.

Sounds classy.

A source told The Sun: "He has spent half a million on a ring as a push present and had it designed months ago in preparation."
The 32-year-old new mum had Kanye by her side the whole time while she was forced to stay in hospital as the doctors kept an eye on her little one.

Mum and daughter have since been discharged and the new family are in a secret location.

As much as they must have wanted to get out of hospital, it doesn't sound like Kim's stay was too grotty.

The couple are said to have spent over £100,000 in the past week - they rented three deluxe suites and had personal chefs on call.

Kim also made use of the suite's beauty salon services, which included daily blow dries, manicures and pedicures.

The source added: "Kanye wasted no money in making sure Kim had the best of everything while she's in hospital.

"He's even more in love with her now than ever and they can't wait to get married."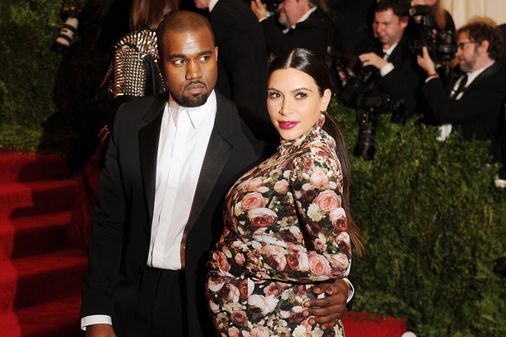 © Getty
Kim Kardashian and Kanye West