Jamie Laing was all kindness and caring in last night's Made In Chelsea.

Blond Biscuits showed his deep bond with Spencer Matthews as he told anyone who would listen - most of whom didn't care - how worried he was that Spennie had gone off the radar.

In the spirit of peace-making, Jamie then made up with "snaky" Andy Jordan and even told his bois of his intentions to "wave the white flag with Lucy."

By which, he meant admitting that he had full knowledge of their kiss in the hot-tub in Verbier.

Andy's response was simply: "I'm so glad I'm not you right now."

The reconciliation went rather well, Jamie delivered a fairly heartfelt apology, followed by an arrogant joke.

He sympathised with Lucy: "It's always annoying when you fancy someone and they don't fancy you back."
Despite fierce loyalties to his "pug" Spencer, he also went on warn Lucy to "be wary" of a relationship with him.

This came after she received an "essay" of a message from Spencer, telling her: "I genuinely miss being around you."

Lucy's response: "Such a head f*ck."

She had a point.

Though we've learnt from Twitter that the pair are now together, Lucy was still trying to convince herself Spencer had "missed his chance" with her.

Plenty more fish in the sea - unfortunately for Lucy her new fish happened to be Phoebe Lettice's ex-boyfriend Alex Mytton.

Not one to be put off by other girls, Lucy went on a couple of dates with the new dreamboat - much to Phoebe's horror.

We all know what it's like to have a connection to someone even once you've split, but Phoebe's seems to be especially deep - kind of scary deep.
According to the Tatler fashion assistant, she and Alex have a "love that will last forever. He pretty much still loves me."

Though she still told Alex: "I don't give a sh*t if you get with other girls."

Hmm, may want to watch the tape back Phoebs.
After a collection of digs against Lucy - including labelling her "easy" - it all seemed a little hypocritical when she warned Alex: "She's just not a very nice person."

Right.

As Binky so accurately put it: "She is so nasty."

So what better idea, then, than for Phoebe, Lucy, Alex, Jamie and Spencer to all go on holiday together?

A recipe for disaster, perhaps.

Spencer - who had not wandered off and died as Jamie feared - called his pal from his villa in Barcelona and suggested this great holiday plan.
As Jamie said, it will probably be "the most chilled trip in the world."

We can't wait.

The other highlights of the night included Louise Thompson telling Rosie Fortescue and Millie Mackintosh that if she asked Andy to get in a taxi and drive to Edinburgh "he'd probably come".
Meanwhile, Andy he claimed to Stevie Johnson that he's not whipped.

We also saw Ashley James - "an Aries" - get rather heated as she saw ex-boyfriend Ollie Locke in a restaurant.

She laid it out pretty simply when she told him: "You're a fucking liar!"

You do have to wonder, if you don't want to run into your exes, maybe talk a walk outside of Chelsea.

As Rosie put it: "It's hard to find a guy who hasn't f*cked one of your friends."

The drama will have to continue...and we'll have front row seats.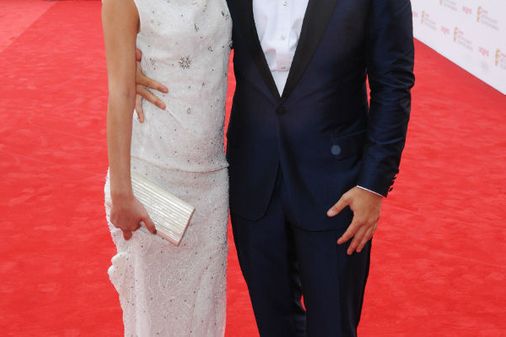 © Getty
Spencer Matthews and Lucy Watson at the Baftas