Harry Styles is the latest One Direction singer to act as best man at a wedding.

The One Direction singer will be playing a key role on his mum's big day, when she'll be marrying her long term partner Robin Twist.

Anne Cox and Robin have been together for years and the groom-to-be helped to raise Harry after she split from his father when he was just seven.

The pair live together in Cheshire with Harry's sister Gemma, 20, who will of course, also be attending the ceremony.

Anne, 43, has always been her 19-year-old son's biggest fan and the family are very close.

They have arranged the wedding for a date that can fit in to the super star's hectic work schedule.

The lads are back home for a week after finishing the European leg of their Take Me Home tour before jetting off to Mexico for their next show.

He's currently chilling at home with his sister - the singer tweeted a photo of the two of them with ice-creams just yesterday.

Gemma has also been to see 1D on tour in the UK and tweeted her mum with a picture of her bro on stage.

© Twitter
Anne Cox and Gemma Styles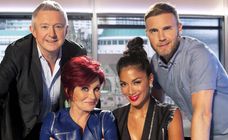 The details of the wedding are being kept a tight secret until the last minute, in order to prevent a paparazzi storm.

Niall Horan was his brother's best man a few months ago and got away with just a small crowd of fans turning up at the church.

Harry's soon-to-be step-brother Mike will also perform the duties of best man on the day.

Anne and Harry are very close and he has even admitted in the past that she's the only person who knows the true story of his well-documented love life.

He's said: "I tell her everything, and she knows the truth."

From what she's said, the truth is probably not far off what gets reported - heartthrob Hazza's not looking to settle down just yet.

She said: "He'll make a very nice boyfriend when he's ready. He's very romantic but doesn't want to tie himself down at the moment.

"Harry is obviously very handsome or 'fit' as the girls would say. Whoever Harry falls in love with in the future will be a really lucky girl."

For now though he'll stick to taking his mum as his date to the Brit Awards...so sweet!

© Getty
Harry Styles