Katie Price has opened up about why she won't be going under the knife after giving birth to her fourth child.

The pregnant glamour girl, who's expecting her first child with new husband Kieran Hayler, has insisted that surgery is the last thing on her mind.

Katie was rumoured to be planning a tummy tuck and sixth boob job after she gives birth in July, but she angrily denied the reports on Twitter.

Now she's admitted that she couldn't care less what she looks like - she just wants her child to be healthy.

She told Heat magazine: "I'm not sat at home planning my post-baby surgery.
"All I want is a healthy baby. It's no secret that I have a history of miscarriages, which, as any woman who has been through it knows, is heartbreaking."
Katie suffered a miscarriage following her split from first husband Peter Andre in 2009, who's the father to her kids Junior, seven, and five-year-old Princess. She also lost a baby in 2006.

Katie's eldest child is Harvey, whose father is footballer Dwight Yorke.

Harvey, 10, suffers from septo-optic dysplasia, which causes blindness, while he's also on the autistic spectrum and gains weight easily.

Katie continued: "Because of Harvey and everything I have been through with him, the only thing I am nervous about is making sure my baby is healthy.

"I couldn't care less about my stomach being flabby. I'm 34 and, like any other woman that has had three children, of course your body changes."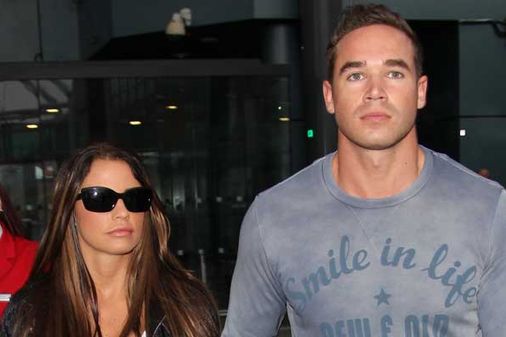 © WENN
Katie Price and Kieran Hayler
Before she fell pregnant, Katie had joked on her reality show about her plans for a "new body, new everything - maybe even new boobs."

She also admitted she'd have more liposuction to make her legs slimmer, but it seems now she's got a baby on the way her priorities have changed.

Katie has been working out with her personal trainer Louise Glover and is now happy to look for a long-term fix and not expect her body to snap back into shape.

And it seems she's so happy with part-time stripper Kieran, 25, that she cares less than ever about what she looks like!

Katie added: "Not a day goes by that Kieran doesn't make me smile. This is the most confident and comfortable I've ever felt.

"When you're in a good place, all the things that would worry you normally, as a woman, take a back seat."