Rihanna allegedly hit a fan in the face with her microphone at a recent gig.

In video footage of the reported incident, the Diamonds singer can be seen walking along the front row of super-fans and running her hand through the crowd.

An overzealous fan then appears to grab the 25-year-old Bajan star, refusing to let go of her arm.

Rihanna can then be seen turning back and striking the fan - allegedly in the face - with the mic in her other hand.

She then continues on with the rest of her set.

Reps for Rihanna are yet to comment on the alleged incident, but Birmingham fans are probably not thinking that highly of their star performer anyway.

Jay-Z's protégé is said to have arrived over two hours late for her concert after spending the previous night partying with Cara Delevingne and her brother for his birthday.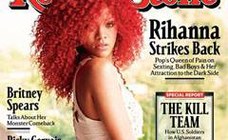 The modelling and singing sensations were papped out on the town in London on Sunday night, arriving at Boujis nightclub at 1:45am and leaving at 3:15am.

Rihanna's crazy night of partying may have something to do with the dreadful review she received for her Twickenham performance the previous night.

The Evening Standard commented on how tired she must be and we're guessing that could have something to do with the reported incident with the microphone.

The paper wrote: "It didn't quite feel historic and at times, Rihanna even appeared a bit bored.

"As her penchant for casually singing over the top of her own records at shows suggests, Rihanna wasn't the most vigorous performer, and she looked dead-eyed...Rihanna deserves a break and so do we."

We're going to have to agree RiRi - think it's time for some R&R.

© Getty
Rihanna