Taylor Swift took home eight Billboard Awards at last night's ceremony in Las Vegas and during her acceptance speech for her biggest win of the night she poked fun at her numerous heartbreak tracks.

After accepting her prize for Top Artist Of The Year from Celine Dion, Taylor made her thanks and told the crowds that she likes to be "self-aware" about her music.

She went on to address the contrasting feelings that appear on her album, Red: "Either extremely in love or extremely heartbroken...

"Those are the crazy emotions; I just wanted to thank you for making my music the soundtrack to your crazy emotions."

Taylor's no stranger to heartbreak following years of numerous short-term relationships - and when putting her exes up against her fans, there's no contest.

She said: "To the fans, who come to the shows and buy the albums, I just want you to know this one thing: You are the longest and best relationship I've ever had."
Have that Harry Styles.

Taylor has been linked to numerous stars - most recently the 19-year-old One Direction singer.

The 23-year-old songstress has admitted that her hit track, I Knew You Were Trouble, was written about our favourite scruffy ladies' man.

She said about her performance of the song at the Brit Awards earlier this year, with Harry watching from the crowd: "It's not hard to access that emotion when the person the song is about is standing by the side of the stage watching."

The single lady - who's also dated Jake Gyllenhaal and John Mayer - looked pretty pleased to be flying solo at last night's Billboards.

She was seated next to close friends Selena Gomez and Ed Sheeran and seemed to be having a great time.

Who needs a boyfriend when you've got eight Billboard Awards!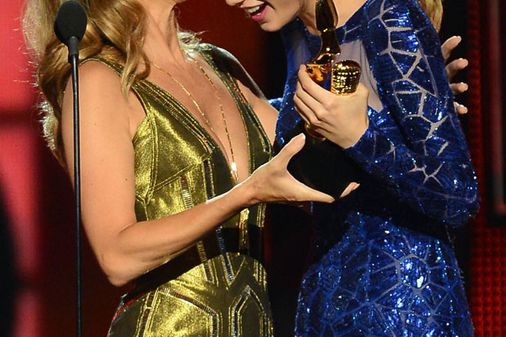 © Getty
Taylor Swift and Celine Dion at the Billboards