SPOILER ALERT!
Episode One
It's the day of the job and emotions are running high. Donna leaves April at Marlon's without saying goodbye, telling Marlon she will tell April everything tomorrow. In the café, Donna puts the first stage of the plan into action as she slips a laxative into Swirling's drink to detain him awhile. Donna meets Ross and lies that she is packed and ready to go once the job is done. Adam assumes his position outside the courthouse, ready and primed to warn them when club owner Stephen leaves to return to his club. Meanwhile, in the club Donna and Ross, dressed as police officers, explain their warrant gives them full rights to search the premises. But soon Adam's part in the job goes horribly wrong when he's interrupted out of the blue by his old friend Aaron.

Charity enjoys flirting with Harvey, looking forward to their business negotiations but is caught off guard when he suggests going back to a hotel in Harrogate. Will Charity succumb?
Episode Two
At the nightclub, things have gone terribly wrong as Donna desperately tries to continue as planned. She tells the, now returned owner, Stephen, she has a warrant, but will it wash? Meanwhile, Adam tells Aaron that Ross and Donna will be in trouble if he doesn't stop the club owner Stephen finding them in his club. Seemingly on side, Aaron insists he's driving and the pair screech off. In the club, Stephen grows suspicious when things don't seem to add up and he punches Ross in the stomach. With Ross beaten and Donna cornered their fate looks bleak.

Adam and Aaron are hiding under a car. Aaron tells him he came back to stop him doing a something stupid but it's clearly too late.

Moira and Chas are concerned to learn Adam left with his passport. Chas is shocked when she calls Aaron and gets a UK dialling tone. Laurel plans a day out for April tomorrow.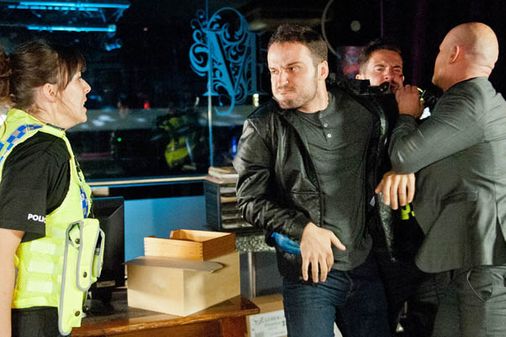 © ITV Pictures
Aaron returns in the middle of the job