SPOILER ALERT
Episode 1
Hayley's prepared for theatre, and the consultant tells her that if the operation is successful she'll wake in the high dependency unit. If it's unsuccessful, she'll be brought back to the ward.

Hayley attempt to put on a brave face as Roy tries to stay strong - but he's fraught with nerves as he waits for news.

Elsewhere, Beth confronts Craig when she sees him leaving Rob and Tracy's shop with a video game, presuming he's stolen it. But when Craig blurts out that Karl gave him the money, Beth storms over to the Rovers - as Jason and Dev watch on.

Also, Peter tries to lift the spirits of the staff at the factory as they wait for news of Hayley's op.
Episode 2
The consultant explains to Roy that Hayley's operation wasn't successful. He's hit by the enormity of what this means and back on the ward with Hayley they try to distract themselves.

The specialist arrives and tells them the tumour was inoperable and all they can offer is palliative care. They're told Hayley has just six to twelve months to live.

Elsewhere, Karl claims to Beth that he only gave Craig the money to cheer him up. But aware that suspicion has been roused as Jason and Dev watch on, he later goes to threaten a terrified Craig.

Also, Carla's unimpressed when Steve lets slip about Michelle feeling overworked and Sinead agrees to give Chesney one last chance.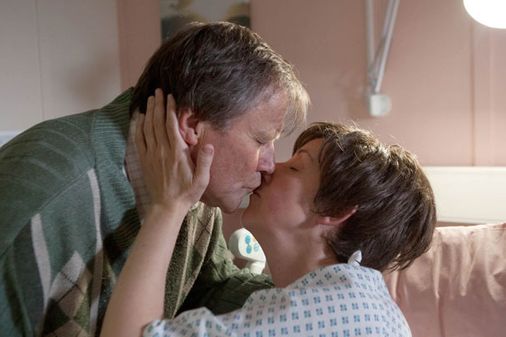 © ITV
Roy stays by Hayley's side