SPOILER ALERT!
Episode One
Michelle is pleased to hear Lloyd and Andrea spent the night together, but when Steve rants about their closeness, how will Michelle react?

Owen's frantic about the mill project when Phelan shows up, revealing that there was a glitch at the bank and he had indeed transferred the funds. Anna decides to apologise in case she put the deal in trouble, but when she goes round his house will Phelan have other ideas?

Rob tells Carla that he wants to be with Tracy, but is Tracy already over him?
​
Elsewhere, Stella orders Gloria to stop leading Dennis on, but Gloria insists it's harmless fun. Sophie tells Tim she knows it was Maddie who attacked him.
Episode Two
Steve awkwardly promises he doesn't fancy Andrea, and that he's jealous because he feels like he's losing his two best mates. Michelle makes Steve sleep on the sofa, and Andrea gets it out of him that it is because he likes her. Will Andrea admit she likes Steve too?

Anna's alarmed when Phelan casually admits he's making a play for her. Izzy senses Anna's unhappy, but will Anna reveal that Phelan made a pass at her?

Tracy's shaken when Rob tears strips off her when he discovers she sold his stuff, warning her that he won't spend his life apologising for one stupid mistake.
​
Elsewhere, Sophie tells Tim she thinks about Maddie constantly, and Dennis is annoyed when Ritchie invites Gloria on a night out.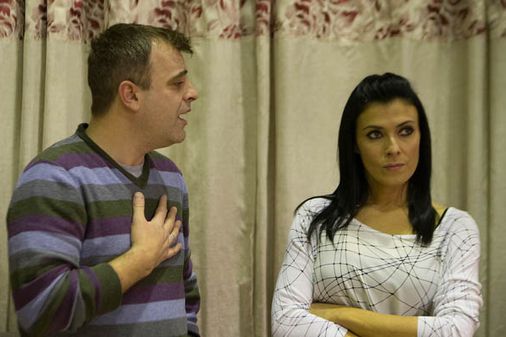 © ITV Pictures
Michelle is annoyed about Steve ranting about Andrea