SPOILER ALERT!
Episode 1
At the hospital, Nick's in a foul mood. The extent of his brain damage is still unknown but Leanne's assured he's making good progress.

Meanwhile, at home, David reveals his pact with Nick to Tina. He doesn't know how to feel but he's suddenly worried when Nick summons him to his bedside. Nick remembers everything - but what's he going to do about it?

To add to David's troubles, Kylie's suspicious about the amount of time he's spending with Tina.

Elsewhere, Roy plans a surprise trip to Blackpool with Hayley before the chemo starts, but she wants him to crack on with his driving lessons.

Also, Michelle's devastated to learn her parents are divorcing. Determined to cheer her up, Steve continues with his plans to buy the pub.
Episode 2
David tells Tina he has to know if Lily is his. But she asks him - could he handle bringing up his brother's child if Lily turns out not to be his? He's not sure, but he orders the DNA test as he's desperate to know.

Meanwhile, Kylie's suspicions of David and Tina heighten when he lies about where he was.

Elsewhere, as Roy continues to plan their surprise trip to Blackpool, Hayley's desperate to know what he's up to.

Also, Steve asks Stella to keep quiet about his intention to buy the pub, confident he's doing the right thing. But when Stella stresses about her dad she questions Steve's surprise tactics after finding out he's accidentally set him up with Eileen.

And Carla's not happy that Peter's offered the PA's role to Eva without consulting her.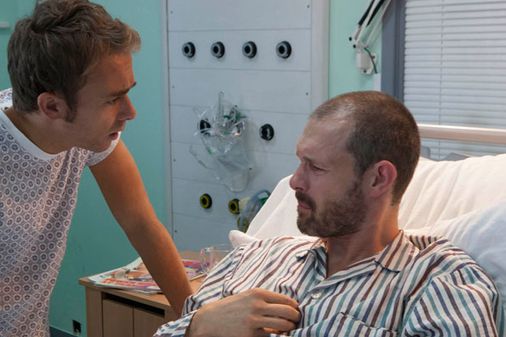 © ITV
David's terrified as he realises what Nick remembers