SPOILER ALERT!
Episode 1
Nick's had brain surgery and is in an induced coma. As Gail and Leanne stay by his bedside, David claims to not remember what happened. When he's alone with Nick, he begs him to wake up and apologises for what he's done.

Elsewhere, Steve suggests a visit to the pub like old times after noticing how down Lloyd and Eileen are. But things take a turn for the worse when Mandy joins them. She and Lloyd start bickering about their parenting skills.

Also, Tina insists she's fine when Gloria suggests Izzy holds Jake's homecoming drinks at the Rovers and Tracy manipulates both Rob and Steve.
Episode 2
The doctor reveals that Nick has swelling on the brain - things aren't looking good. David's feeling wracked with guilt and he prepares to lie as the police arrive.

Elsewhere, Mandy and Lloyd are tired of fighting to keep their relationship alive. Mandy tells Lloyd they need to be honest to themselves - they're different people now to who they were when they first fell in love. But will Lloyd agree?

Also, Tina braces herself for Jake's party and Norris sacks Craig when the newspapers he was supposed to deliver are found dumped.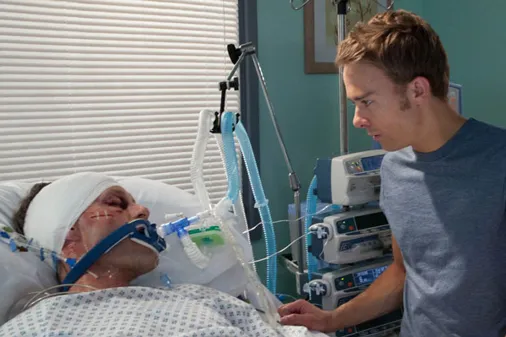 © ITV
David's guilt builds and builds