SPOILER ALERT!
Episode One
A pipe leaks in the café and a frantic Anna is convinced by Fix to get in touch with Roy so he can phone the insurance company. But what will happen when they try to get in touch with him?

Tracy warms to Rob after he assures her that he loves her, but she obviously hasn't forgotten about Tina and berates her when she sees her in the street. Tina tells Tracy she's leaving, but will she really go through with it?

Dennis is jealous when Eva thinks Gloria likes Ritchie. When Gloria mentions how she loves a bit of leather, Dennis gets an horrendous idea…
​
Elsewhere Michelle and Steve make up and Marcus is loses composure when Todd flirts with him.
Episode Two
Roy is missing and a panicking Anna and Fiz try to find him before getting in touch with the police. However, Fiz let's something slip about Hayley's death to the police – could she have started some trouble?

Deirdre clearly disapproves when Tracy invites Rob to join her and Amy for dinner. Amy adores Rob, but will this get their relationship back on track?

Rita feels left out when Dennis, Gloria and Ritchie have a business meeting. They argue when Dennis mentions Gloria being 10 years younger than her, and a miserable Rita confides to Tina that she thinks Dennis might leave her.
​
Elsewhere, Jason's annoyed when his dad gives Eva and designer scarf, Marcus gives Todd his number, Steve and Andrea agree to be friends, and Tina's leaving do takes place at the Rovers.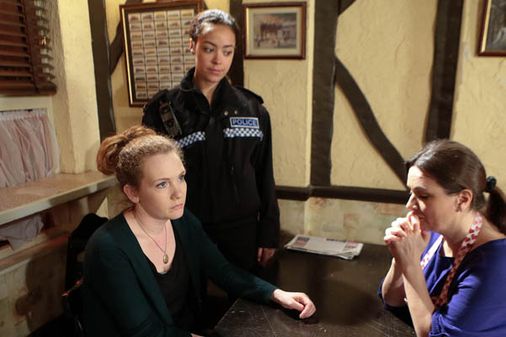 © ITV Pictures
Fix and Anna worry for Roy