SPOILER ALERT!
Episode One
Tina dresses up and hits the Rovers in a bid to tempt Peter back. Luke tries to flirt with her but she's having none of it. She whispers to Peter that she has the flat to herself; will Peter be able to resist?

Anna is worried sick when Owen and Gary arrived in the café after being given their marching orders by Phelan. Phelan shows up with an announcement for the family. Is he about to tell them all about his and Anna's sordid deal?

​Jenna's annoyed when Andrea tells her she won't give up Lloyd. Lloyd is relieved when Steve reassures him he just likes Andrea as a friend.

Elsewhere, Maria knows that Tyrone is worried Kirsty might try to take Ruby and worries herself that Marcus might try and take Liam. She barricades herself into the salon flat with Liam. Kevin also finds Sophie and Maddie raiding the fridge at no.13.
Episode Two
Tina and Peter sleep together as Carla tries to get hold of him. When Peter sees the missed calls, he leaves Tina. Filled with guilt, he drinks again at the factory. Will Carla find out?

Phelan announces that he's released Owen and Gary from the job and gives them the CCTV footage; though he makes it clear they won't see a penny from him. Will Anna be able to cope with what she's done?

Tyrone and Fiz get Maria out for a drink, but as Tyrone and Maria reminisce about the old days, she can't help but want it back.
​
Elsewhere, Sally's furious when Kevin tells Sophie and Maddie they can't move in with him. Lloyd and Andrea declare their love for each other.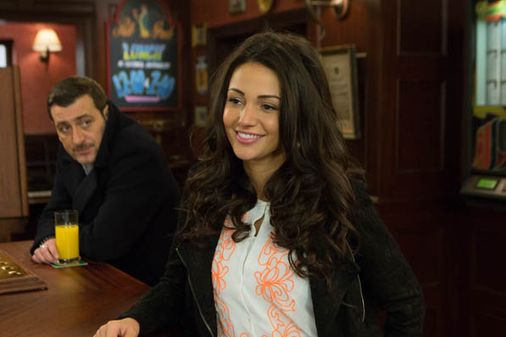 © ITV Pictures
Tina tries to snag Peter