SPOILER ALERT!
Rita's surrounded by a gang of hoodies on the Red Rec when Dennis calls. She answers the phone and asks him to come and get her, before the group snatch her phone and go for her bag. Dennis, Tina and Tommy race to the Red Rec - it's a wake up call for Tina.

Elsewhere, David's determined to keep his family together. He heads to the hospital to support Leanne and offers to work whatever hours are needed to keep Nick's business afloat. Gail tells him she's never been more proud.

Also, Craig tells Beth his turmoil is down to thoughts of his dad. She's heartbroken, but is he telling the truth?

Tim heads over to Sally's after her disastrous Internet date.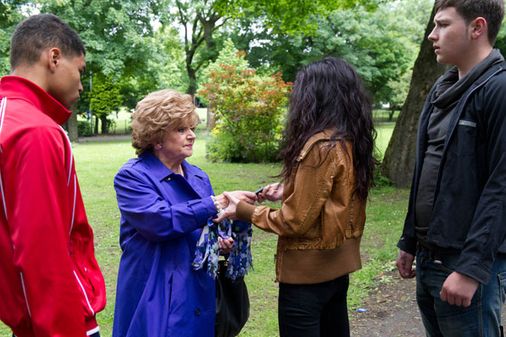 © ITV
Rita gets a scare