SPOILER ALERT!
Episode 1
Stella blames herself for Karl's evil behaviour - he did it all to win her back. But soon the gossip starts - did Stella know what Karl was up to?

The police have questions to ask too and Stella's clearly struggling to cope with it all. Meanwhile, many of the residents feel they owe Dev an apology for believing Sunita started the fire.

Elsewhere, Tim sends flowers to Underworld and apologises to Sally for missing the wedding - will she give in to his charms?

Also, Hayley suggests Roy has his first driving less and while he's out she heads to the factory to catch up on the gossip - but is she doing too much too soon?
Episode 1
As Stella seeks comfort at the bottom of a bottle, Jason and Dev refuse to believe she had any part to play in Karl's evil behaviour. But Stella breaks down and tells them she doesn't deserve their compassion.

Elsewhere, Sally plays it cool with Tim in the pub and assures him they're just two people having fun. Tim's delighted and sets about winning her round again.

Also, Roy's worried as Fiz takes an exhausted Hayley back to the cafe. Hayley's frustrated she's not up to being back on her feet.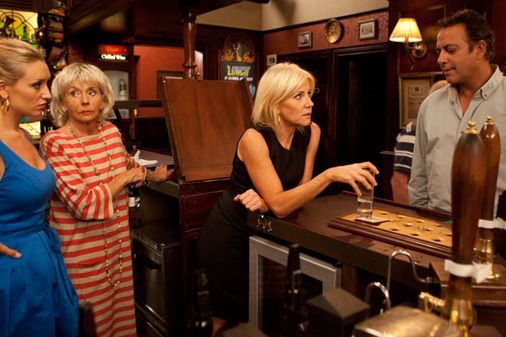 © ITV
Stella's blaming herself