SPOILER ALERT!
Episode One
Anna admits to Izzy that she's beginning to think there's something not quite right about Grace. Tracy gives Faye the keys to her house, asking her, Grace, Amy and Simon to walk Eccles for her. Amy and Simon are worried as Grace and Faye run wild in the house. Grace blocks Simon from leaving, but what does she have in store for him?

Leanne has to explain that, after the incident, Simon has to stay with Peter and Carla. Nick worries that his condition is starting to take its toll on Leanne. Gail tries to reassure him, but is he right?

Steve heads off for his first day at college, pretending to be hurt when Michelle and Liz tease him about his academic ambitions.

Elsewhere, Kirk finds a pair of knickers in Beth's handbag and she's forced to confess.
Episode Two
A terrified Simon tells Leanne and Nick about how Faye and Grace had pinned him down and smeared him with make-up, with Grace recording it. Leanne goes to Anna's to give Faye a piece of her mind. Under pressure, will Anna tell them about Grace's involvement?

Liz is fuming at Tracy's irresponsible behaviour when she and Steve find out about how Tracy left the four children to their own devices. Liz tells Tracy she is an unfit mother and wants Amy to live with them instead.

Steve thinks about quitting school as it's too difficult, but Michelle encourages him to make a friend.

​Elsewhere, Sinead is offered a new job. Will she take it?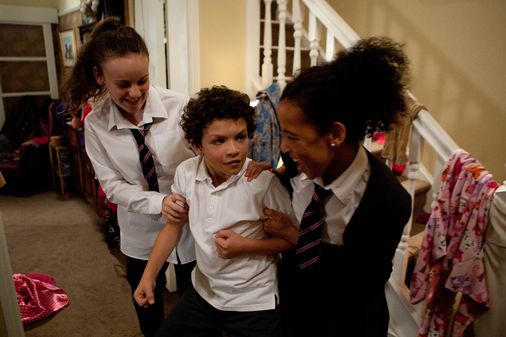 © ITV Pictures
Grace asks Faye to help her to bully Simon