SPOILER ALERT!
Episode 1
Leanne's convinced the car crash was her fault after the police reveal they've ruled out foul play - she called Nick on his mobile so thinks this must be what distracted him.

Tina angrily tells David he has to reveal the truth to Leanne. But as David admits to Leanne that he's got a confession, Kylie doubles over in pain. Sean hears her screams and rushes over to find Kylie has collapsed.

Elsewhere, Sally ramps up the music at her BBQ in an attempt to out-do Anna's rival BBQ. Meanwhile, Faye wishes she could join Tim for the evening.

Also, Sinead is forced to accept she's lost Chesney, as Katy gets excited at the thought of moving in with him. As Sinead sees Chesney buying flowers, she presumes they're for Katy and sadly wishes him well.
Episode 2
As David nervously attempts to make his confession, Sean bursts in and tells him, Leanne and Tina that Kylie's in labour. They rush to No.8 and David phones the hospital, but it's too late and Gail delivers Kylie's baby girl.

David's emotional and hopes she's his. As Tina orders him outside and reminds him what he has to do, will David be able to get a reprieve for the sake of the baby?

Elsewhere, Sally's miffed that Tim's gone to see Faye at Anna's BBQ. Sally's a bit worse for wear and when she helps herself to Anna's ketchup, which she left on the fence, a fight ensues. Faye and Tim are mortified as they wrestle each other to the ground.

Also, Katy puts Joseph to bed and then seductively tells Chesney she's missed him - but he's not ready to take the next step.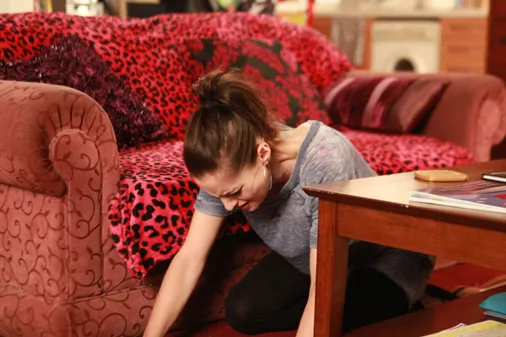 © ITV
Kylie doubles over in pain