SPOILER ALERT!
Apprehensive about her final appointment, Carol tries to distract herself by meeting Charlie for his DNA test, however Dot catches them. Charlie is forced to explain that Carol wants them to do a DNA test and Dot is clearly upset but agrees. At the hospital, Carol fails to find some comfort with the hospital Reverend but she relaxes a little when Bianca and Sonia arrive as a surprise. Meanwhile, Terry is cold with Bianca after reminding her that she didn't tell him she felt the same, Bianca is forced to decide where her priorities lie, but what will she decide?

Stacey forces Alfie to tell Kat about their money problems. Kat is adamant that she will return to the stall but Alfie insists he will do it for her. However, Alfie overreacts when Aleks refuses to change his mind about banning him from working on the market. Mick steps in and suggests Alfie sells his beloved car to get some money which Alfie reluctantly agrees to.

Stacey tries to get a job at Blades but is crushed when after a great trial shift Dean reveals he has no vacancies. Stacey's job-hunt continues to be fruitless until Max offers her a job at the car-lot. Elsewhere, Sonia and Tina bury the hatchet and go back to being friends.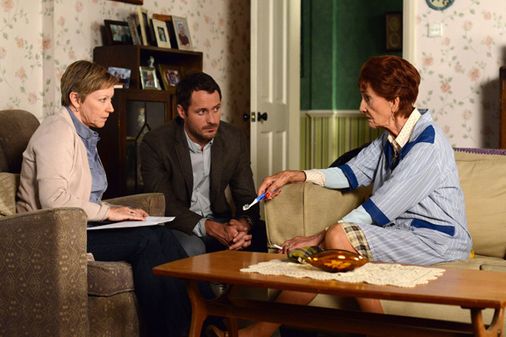 © BBC Pictures
Carol tries to distract herself