SPOILER ALERT
Flowers arrive at the Branning's and as Abi and Lauren speculate over who left them, Max is convinced Carl is behind it.

He takes Lauren to her counselling session and bumps into Carl, who points out that today would have been his and Kirsty's wedding anniversary.

Back at the garage Max's mind is far from the job as Jack tells him he's found them a business opportunity.

They have to source some cars - Max ends up calling on a dodgy old contact, Sid.

It all works out well when they end up with £10k profit.

A bottle of champagne mysteriously arrives just as Sid calls of the deal.

Max loses is as a smug Carl makes a comment about Lauren's drinking.

Carl is playing everyone in the street as he gets Phil involved in a deal and reminds Ian about his next payment.

Lauren is happy to see Jake at counselling again and, despite his wedding ring they open up to one another and hint that they should meet again.

Kat and Roxy get chatting with Jean in the Vic and they encourage her to call Ollie.

Kat gets a shock when talk turns to Ronnie - she'll be released next week.

Dexter is feeling desperate when Phil informs him he owes him the £10k they lost and the group formulate a plan to raise the cash.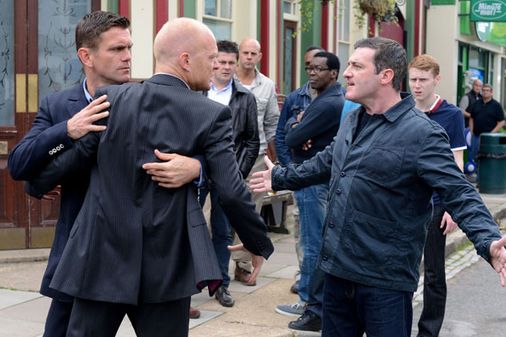 © BBC Pictures
Max goes for Carl