SPOILER ALERT!
Sonia reels from Soph's bombshell that she slept with Tina and kicks both of them out. Mick spots the commotion and goes with Tina to talk to Sonia and tells her to give Tina a chance to explain. After Mick leaves, the pair argue but Tina explains her feelings and they quickly make amends. When Bex returns home, Sonia tells her about the lump she's found.
Stacey follows Kyle and assures him she hasn't revealed his secret but realising he needs space,Stacey returns to The Vic where Andy quickly clocks on to the truth about Kyle's past. As the pair continue to bond, Jack notices and advises him to stay away. Stacey later returns home to find Soph and Kyle arguing and Soph storms off. A supportive Stacey encourages Kyle to open up and he admits that, although he is happier being in Walford and living as Kyle, he does miss his Mum. Stacey takes matters into her own hands and later tells a shocked Kyle she's spoken to his mum, Alison, and she's visiting tomorrow.
Meanwhile, Carmel spots Masood on his second date with Laura​​ and Ian is fuming when he learns ofBuster's plan to stop the CostMart deal.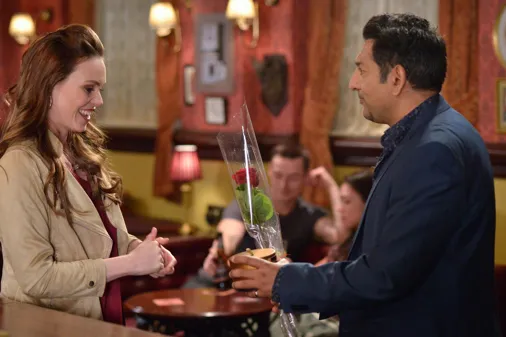 © BBC Pictures