SPOILER ALERT
It's Carol's birthday and David is still trying to show Masood up.

Masood's put out that he's still there and lets David manipulate him, convincing him to through Carol a party - something she'll hate.

At her party he realises he's be played; Carol doesn't want to be the centre of attention - will she realise?

Phil's still struggling with Carl hanging around and is furious when he hears Jay is going to Carol's party.

He demands family loyalty and goes and drags him out - to Ronnie's objections.

Jack and Joey square up to him at the party but David suggests Jay just make it easier and leave.

Cindy is intrigued by David knowing he knew her mum.

He's eager to get into Liam's good books by helping with his crush on her but Peter's arrival cuts her questions to him short.

Abi and Joey are suspicious of Lauren's behaviour but her sister is relieved when she admits she's just met someone else.

Meanwhile, Dexter is adamant he's going through with the surgery and Whitney tells Ava she's applying for a teaching assistant job.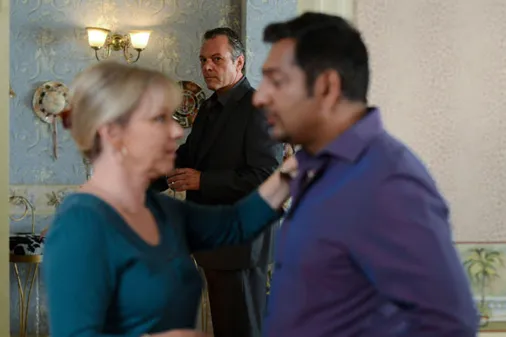 © BBC Pictures
Is Carol and Masood's bond strong enough?