SPOILER ALERT!
Kat thinks she's going in to labour so Alfie rushes to take her to a children's shop in the hope that if her waters break, they will receive free stuff. Meanwhile, Terry, Donna and Pam speculate over the gender of the twins unaware that Kat and Alfie have returned home after realising it was a false alarm. Alfie heads back to work but is shocked to find his pitch has been given away. Alfie storms to the market office and confronts Aleks who refuses to back down, until a sympathetic Roxy intervenes. Later after learning Alfie went to his boss, Aleks arrives at the Moons' and calls a truce but little does Alfie know Aleks plans to seek revenge. Alfie's good mood is short lived when he finds some more surprise visitors at the door…. Jean and Lily.

Ian receives a visit from DI Keeble who informs him the investigation has stalled and they want to hold a television appeal, fronted by Ian. Ian is shocked by the request and reluctantly agrees, unsure if it's the right thing to do. Later, with the café short staffed Liam comes to Ian's rescue and Ian finds himself enjoying having an apprentice for the day. Later, with his distractions gone, Ian heads outside and is panicked to find Rainie looking for more money.

Dot marks the centenary of World War I where Lee lowers the flag in his full army regalia. Whitney can't hide how proud she is of her man and plucks up the courage to tell Bianca that she is seeing Lee. Meanwhile Mick hides his nerves from his family as he prepares for the Swimming Gala.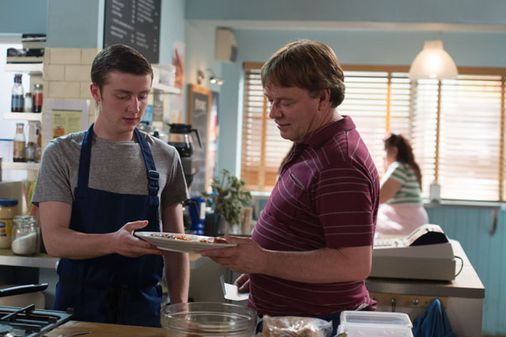 © BBC Pictures
Kat thinks she's going into labour