SPOILER ALERT!
Ronnie is shocked to find Tim on her doorstep looking for Hannah who has gone missing on the day of her court hearing. A protective Jack advises Ronnie to stay out of it but after Hannah is found, Ronnie tells Jack she wants to go to the hearing. Later on, Sharon, Ronnie and Jack are stunned when Roxy turns up on the doorstep.
Carmel's son, Shakil, arrives in Walford and tells Carmel that Umar is coming to see her as he wants to get back together. Despite her doubts, Carmel tells Shakil she'll meet Umar at The Vic but is disappointed when he fails to show. Meanwhile, Kush clocks on that Shakil is up to something and soon learns the truth. After learning the truth, an upset Carmel tells Shakil to leave but soon realises her son needs her and tells him he can stay in Walford.
​Elsewhere, Andy lets slip to Stacey that Martin was fired from his job after two days leaving Stacey wondering what's been going on. As Belinda hosts an underwear party at Stacey's, Martin is confronted by Stacey and in front of everyone he is forced to admit the truth.
​
Sonia is delighted when she discovers her lump has gone but her mood turns when Tina insists she should still go to her appointment. Later on, Shirley encourages Sonia to go for Tina's sake.
Ronnie tries to get to the bottom of what's been going on with Roxy and turns to Glenda for help.Ronnie soon makes an upsetting discovery however but can she help her sister?
Martin turns to Andy for help with money but when offered a dodgy job, he reaches out to Ian who gives him his old job on the stall. Desperate to give Stacey the wedding of her dreams, Martin later takes Andy up on his earlier offer but what is he getting himself into?
Elsewhere, a guilty Jane and Ian tell Tina they no longer need her to work at the cafe as they will have more time. After learning the petition for the CostMart has been denied, Tina comes up with an idea to stop Ian from selling Beale's.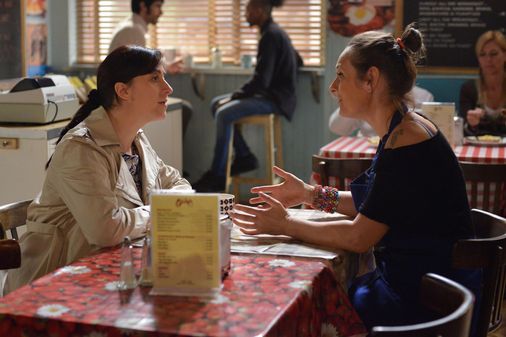 © BBC Pictures