SPOILER ALERT!
Mick's birthday present for Linda has finally arrived – it's Lee who has returned from Afghanistan - and he is keen to keep it a secret. However Nancy is given the task to keep Linda distracted but will she be able to? Lee and Linda's emotional reunion is short lived however when Shirley also makes a surprise appearance with an unexpected visitor, Heather's son George.

Meanwhile Denise worries about Patrick's health when she discovers that he has ordered a medical magazine but her worries soon subside when he proudly boasts about an article featuring his son Anthony. Patrick later speaks to Ian about Denise, which gives Ian a push to show Denise how much she means to him when he decides to set a wedding date. Patrick is left furious however when he sees that a drunk Stan and Cora have defaced the picture of Anthony and he goes to confront them. Later, home alone and seething Patrick suddenly finds himself in terrible pain and clutching his arm, he falls to the floor.

Elsewhere, Billy and Lola find themselves in the dark when the power goes off in the flat, which leads Lola to discover that Billy has been stealing electricity from Alek's flat. Billy admits that he is really struggling financially but he assures Lola he will sort it out.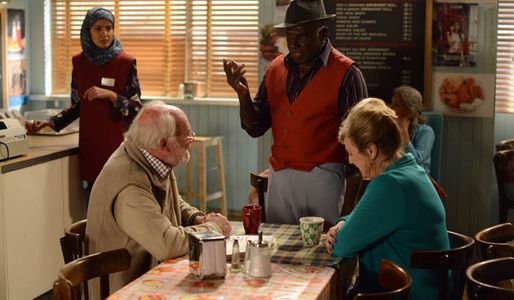 © BBC Pictures