SPOILER ALERT!
An exhausted Janine tries to cheer up Scarlett but she snaps at Alice when she suggests Michael could help. Janine takes Scarlett to work but she gets so stressed she walks out - and has to be reminded to take her daughter. Janine takes the afternoon off and Michael is annoyed when he finds out via Alice that Scarlett is unwell.

In the park, Janine sits on the beach and starts to fall asleep - just as Scarlett makes her way to the edge of the pond. Janine jerks awake and panics, when Michael appears and scoops Scarlet to safety. Michael reveals she's played right into his hands and tells her he'll gain full custody of Scarlett.

Meanwhile, as Dexter has doubts about his op, he sees Sam struggling while lugging crates outside The Vic. Later, Ava gets home to find Sam struggling for breath and calls an ambulance. Meanwhile, Abi urges Dexter to tell Sam how scared he is, but things change when Dexter sees Sam being driven away in an ambulance. At the hospital, Ava tells him the operation will now go ahead tomorrow.

Elsewhere, Ronnie's crushed to find out Roxy's left Walford. Jack calls Roxy, furious she's taken Amy away without telling him. Ronnie apologises and says it's her fault.

Also, David offers to take Carol for a meal to remember her son and Patrick is left in charge of Fatboy at the pub.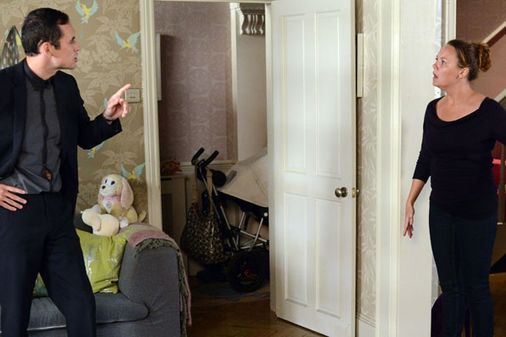 © BBC
Michael and Janine come to blows