SPOILER ALERT
Ian realises there's nothing he can do about Carl; he's going to have to pay him the money.

Peter tells him to be honest with Lucy and ask for the cash.

Ian decides to butter her up first with a fancy meal but will this help his cause or make things worse?

It's finally time for Liam to go to court and after hearing the gang may turn up he refuses to go.

After some words from Shirley Liam realises he has to do the right thing.

Liam and Jack return from court - he didn't even have to testify - Little Chris changed his plea.

Joey isn't happy when he sees Michael's moved in, but he's got Alice wrapped around his finger - if Joey makes him leave he'll lose Alice as well.

Janine takes Danny on, giving him the job of kicking tenants out of her flats - has she found a new go-to-guy?

Abi and Kim set Cora and Patrick up and they end up locked in shed together with a bottle of rum - despite the unconventional way they got there things end up going very well.

Sam and Dexter try and move forward with their relationship as Sam gives him the newly repaired car as a gift.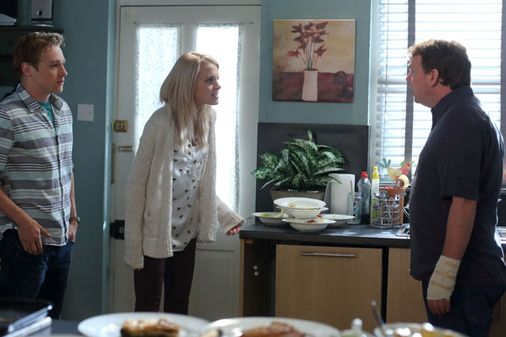 © BBC Pictures
Lucy is furious when she realises why Ian's being so nice