SPOILER ALERT!
David gives Carol an engagement ring to cheer her up, but she is angered after running into Kat. Sonia and Bianca go with Carol to chemotherapy but it's not long before they are reminded that this could be their futures. Carol insists she go to the trial to support Alice, and reassures David who is about to take to the stand.

Kat's guilt grows and she is reluctant to leave the house. She eventually ventures out but she's worried when she sees Bianca. Later, Kat panics as she finds out Stacey has disappeared.

Dot worries about Charlie but Fatboy talks her into giving him a chance. She invites him over, but quickly becomes upset and Charlie leaves.

Ian is angry at Jane's idea of shutting the restaurant, and isn't convinced by Jane's act when she helps redecorating the café. Jane eventually snaps at him but Ian opens up about why he's behaving that way.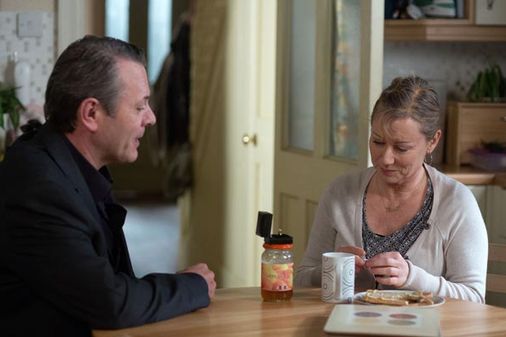 © BBC Pictures
Carol is momentarily happy