SPOILER ALERT!
Shabnam and Masood make friends after their disagreement about Carol for their mother's memorial. Masood asks Carol to attend the memorial for support, something Shabnam isn't happy about. She lets the cat out the bag – expressing her strongly negative views about their relationship.

Carol breaks up with Masood after Shabnam's outburst, and Masood thinks it's because of David. Carol is furious and storms off, only to show up on Sonia's doorstep…

Sharon asks Phil about the suspiciously blood covered phone, but he obviously isn't going to tell her. She realises after a brief panic about Denny that she can't be in a relationship with Phil if she doesn't trust him. But will Phil be happy to own up to his past mistakes?
​
Elsewhere, Kat realises that Alfie's up to something as his business isn't taking off. Eventually Shirley takes pity on him and Mick buys up Alfie's stock.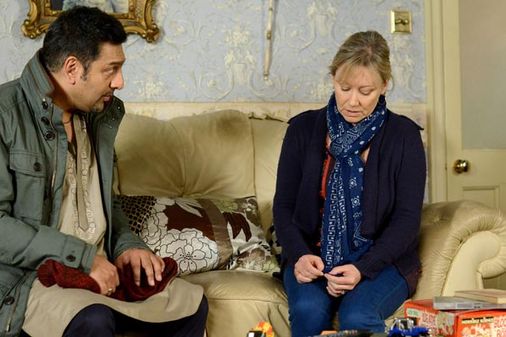 © BBC Pictures
Carol breaks up with Masood