SPOILER ALERT!
Tensions rise at The Vic as Mick is convinced that Stan is getting between him and his kids. After finding Stan secretly washing his sheets, the family think he had an accident in the night. Stan is adamant that Lady Di was sick on his bed but no one believes him. Stan becomes infuriated and demands Mick to take him home.

Ian wants a family portrait for the restaurant but insults the whole family and they drop out. Denise is particularly upset as Ian wants Jane in it more than her. After some advice from Max, Lucy realises she needs to give Ian a break and she gets everyone together for the portrait.

After finding out there will be an official meeting about the market, the Bridge Street traders corners Aleks to find to future out what will happen to the market.
​
Ronnie and Roxy are finishing their new house but Ronnie tells Roxy it has been held up. Roxy is still angry about Ronnie's behaviour with Aleks, so Ronnie offers to makes amends by inviting him for dinner.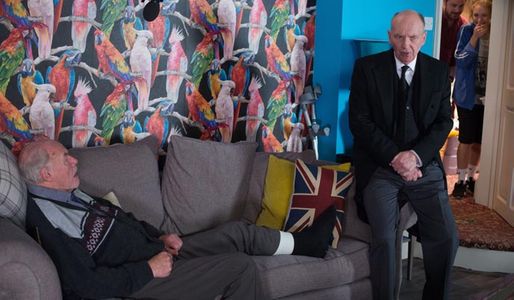 © ITV Pictures