SPOILER ALERT!
Lucy and Lauren's open day is a great success, but Lucy is furious when a jealous Max shows up, even though she gives in to his charms. Later, Lucy decides to accept Lee's invitation for a drink, but is gutted when she arrives at the pub to see Lee kissing Whitney. Meanwhile, Max receives an email from an unknown sender with a picture of him and Lucy together. Who knows about them?

The Carters realise Stan was telling the truth about Lady Di being sick and a guilty Mick is shocked when he gets a call from the police telling him that Stan is in trouble.

At dinner, Ronnie surprises Roxy with house keys. They have completed the house after all! The moment is slightly spoiled though as Billy makes an ill-judged comment about Archie. After visiting the house, the girls plan a housewarming party, and Ronnie makes it clear she wants to put the past behind her.
​
Meanwhile, Aleks sees Jake watching Lauren and Lucy and teases him about it.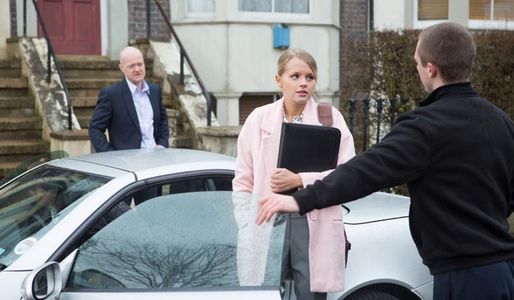 © BBC Pictures