SPOILER ALERT
The re-opening of Scarlett's goes off without a hitch and Lucy starts to feel guilty about making Ian sell.

After a chat with Denise and Peter she decides they should find another way around the problem.

But when she calls the bank she finds out what he's done - furious she forces him to admit it in front of everyone.

Roxy is at the Vic helping out with the speed dating night - feeling good after she spots Alfie and Kat's decree nisi but she starts to feel uneasy after nothing is mentioned.

At first things seem to be going well for Bianca and Shirley, leaving Jean irritated - how can they not feel bad?

The night turns around when Shirley gets too drunk and goes home with Bianca, revealing that her benefits have been cut.

Meanwhile Jean and Ollie end up hitting it off and arranging a date.

The mess between Carl, Kirsty and Max continues as she desperately tries to win Max back and Carl reminds her of the good old days.

The night's been a success - Dot takes home over £300 for the church.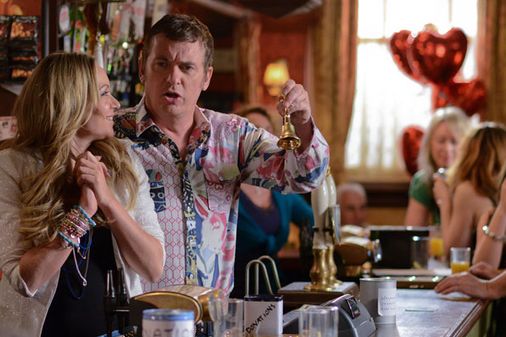 © BBC Pictures
Alfie and Roxy are all smiles