SPOILER ALERT!
On returning to Phil's, Alfie throws himself into the poker, he receives a call from Kat but when he realises she is at home, fear engulfs him and he runs back to the house. Just as he reaches the door a massive explosion blows out the front windows. As everyone realise what's happened, Alfie charges into the house despite Roxy trying to stop him.

On hearing the explosion, Johnny and Peter rush in to the house to help. Mick is left aghast by his son's actions. The residents gather outside No. 23 as they wonder who is still inside.

As Sharon has run away from her own hen do, Mick finds her and gives her some encouraging words which make her realise she does love Phil and she wants to marry him. Back at The Vic, Linda tries to save the party by starting a game but it's awkward as Phil questions Sharon's whereabouts. Just as Sharon returns, the noise from the explosion at No. 23 makes everyone rush outside. Later, Sharon tells Phil she considered running away, but didn't because she loves him.

A suspicious Nancy questions Lauren's behaviour after noticing the tension between her and Peter, however the party comes to an abrupt end when Lauren and Dean decide to head off to a club. After the other boys run in to the fire, Nancy is surprised to see Tamwar head home in a state and tells Masood about his behaviour. Meanwhile, Lauren is absolutely distraught after discovering that Peter ran in to the fire.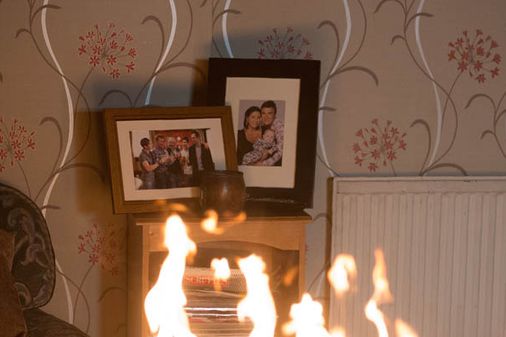 © BBC Pictures
Eastenders 16/09 – Alfie charges into the burning house