SPOILER ALERT!
​
Ian has a close call when Denise nearly answers the phone to Rainie. After Denise tries to put a "pause" on their wedding planning, Ian schemes to get Patrick to have a word with her to talk her round. Denise is initially annoyed when she discovers what Ian is up to but eventually comes round and agrees to go ahead with the organising. When Rainie shows up Ian manages to get rid of her but not for long, as when Patrick stumbles across her Rainie fills him in on exactly what happened with Ian. A furious Patrick confronts Ian…

Patrick is tempted to speak to someone about his health scare but yet again puts it off.

At the Mitchell's a traumatised Sharon is still reluctant to leave the house and, feeling bad about leaving her and Dennis alone, Phil arranges for Lola to pay her visit. Although Lola's visit relaxes her, she's still nervous about going out. Later, Sharon panics when she catches Dennis in her bedroom inches away from finding the hidden gun and she grabs him and shakes him, causing him to run away. Shirley soon arrives at the Arches with Dennis and she reminds Phil that Sharon's current state of mind is his fault. All too aware that Sharon isn't coping Phil arranges for a doctor to visit her who prescribes her some medication, much to her dismay.

Elsewhere, Jay confronts Max following his discovery about him and Emma the previous night. With Lauren having just moved back in, Max implores Jay not to tell the girls but will he?
​
Meanwhile Tina and Tosh are delighted when Jake returns to the flat having been released on bail.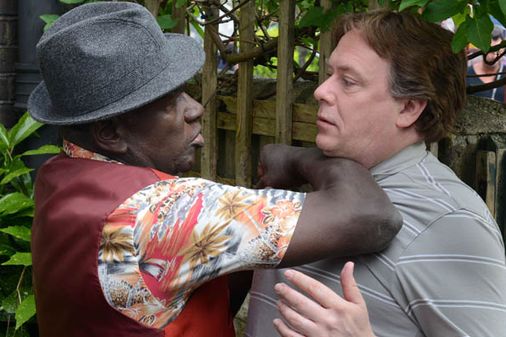 © BBC Pictures
Ian has a close call