SPOILER ALERT
Billy is worried about Carl and his attempts to overthrow the Mitchell Empire.

He goes to warn Phil not realising Ronnie's already brought him up to date.

She's not messing around and makes sure Carl knows this when she find him in the R&R office.

Peggy turns up in the square to sort everyone out, she tells Phil he needs to pull himself together and get back to work.

Peggy hands him a bag with a gift for Lexi but it isn't until Peggy has gone that Phil looks inside and it also contains the number of the nurse who has been looking after him.

Phil smiles to himself but has his mum got through to him?

Lauren is trying to take responsibility and Joey seems to want to spend more time with her.

However, she's keen to be with someone who really understands.

She meets with Jake and things heat up and they end up kissing.

Dexter works hard to make Abi feel better and after talking about their fathers comes up with an idea - he's going to get tested to be a kidney donor.

Tamwar tries to plan a romantic evening for him and Alice but it all backfires after she gets nervous and drunk.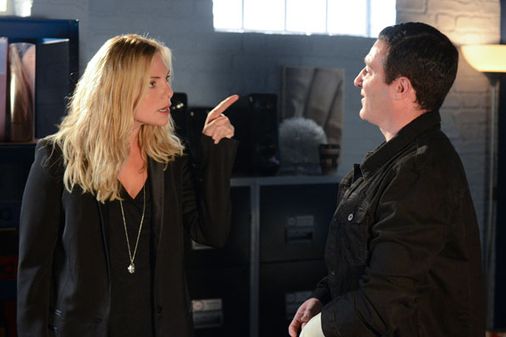 © BBC Pictures
Ronnie's not scared of Carl