SPOILER ALERT!
Linda worries about Sharon following her discovery and heads over to the house to try and persuade her to get rid of the gun. Sharon opens up to Linda and admits she is scared of being attacked again. Sharon plucks up the courage to leave the house for the first time since her attack in order to dispose of the gun. Meanwhile, Shirley informs a surprised Phil that Sharon's been lying about taking her medication. Sharon's attempt is short-lived when she overhears a conversation between Phil and Shirley and discovers the truth about her attack…

Tina is surprised when Aunt Babe turns up with her latest stash for her to sell, hash brownies. Meanwhile, the Butcher kids head off to school for their last day of term. Liam is forced to make a detour to the café and is unaware that he has just picked up Aunt Babe's latest delivery for Tina. Tina panics when she realises she has lost the brownies but can't work out where they have gone. Bianca receives a phone call from the school, who have discovered Tiffany's hash cakes. At the school, a slightly drunk Bianca makes the situation even worse when she argues with the head teacher and he informs her that he's going to have to contact Social Services.

Elsewhere, Ian remains on edge and tries to discourage Denise from spending time him. Meanwhile, Masood is on hand to offer his support and visits Patrick in hospital.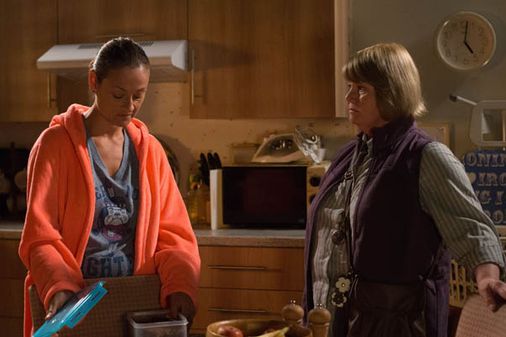 © ITV Pictures
Linda worries about Sharon