SPOILER ALERT!
Lee, Whitney and Johnny's excitement about attending Notting Hill Carnival is soon dashed when Mick asks them to stay and help cheer up Linda by bringing carnival to The Vic. When Linda is out of sight they decorate the pub, but are disappointed by Linda's unenthusiastic response. Later, Ian arrives in high-spirits with his family, causing Mick to put his family first by telling Linda that he will deliver Ian with an ultimatum to tell the truth, or he will.

As Patrick returns from hospital Denise and Ian quickly realise it's not going to be easy. Denise is concerned by Patrick's low mood, so Ian suggests they invite some of his friends over. Patrick's mood brightens when his pals arrive. Feeling happier Ian tells Denise it's time they got married and she agrees. Later, Ian and Denise try to end the celebrations but Alfie, Peter and Fatboy persuade them to take Patrick to The Vic. Patrick is ecstatic when he receives a warm welcome at the pub. However, Cora is still avoiding seeing Patrick.

It becomes apparent Tosh is struggling with the fact her and Tina's child won't know their father and Tina begins to realise they may not be having a baby after all. Elsewhere, Bianca argues with Terry when she sees him helping Donna but it soon becomes clear the pair are secretly sleeping together. Bianca wants to keep their rendezvous quiet which is clearly not what Terry wants.

After Sharon catches Phil with Rainie he is forced to come clean about Ian. Sharon tells Phil it is not his problem, so Phil drags Rainie to Cora's and tells her she needs to look after her daughter.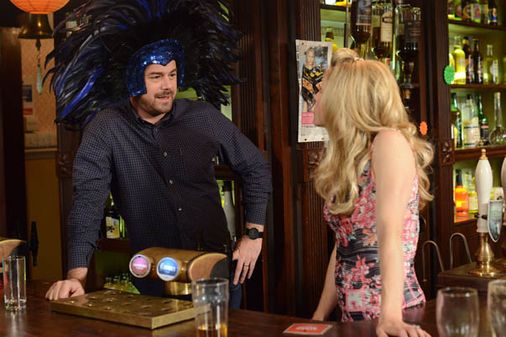 © BBC Pictures
Mick decides to give Ian an ultimatum